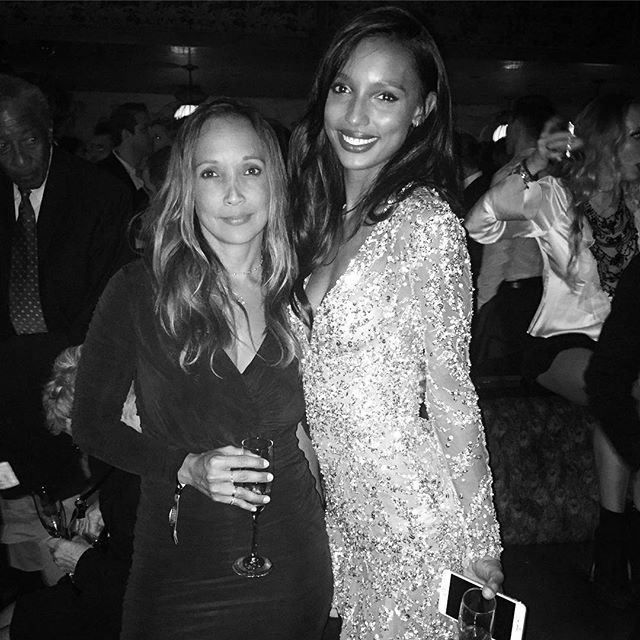 The mother-daughter duo work together on all of the Angel's appearances.
Before she was plucked from obscurity and shot to modelling fame, Victoria's Secret Angel Jasmine Tookes was assisting her mother, Cary Robinson, dress celebrities in her work as a stylist. In a twist of fate one day, Tookes, who had tagged along on one of Robinson's assignments, was scouted on the job after a showroom assistant introduced the pair to IMG.
The rest—stints walking for Calvin Klein, modelling for Prada, and of course landing Victoria's Secret—organically followed, solidifying Robinson's part on Tookes's journey to rapid ascent.
Chatting to Vogue, Tookes discusses their special relationship and explains how the pair have come full circle, enlisting the help of her mum to dress her, and also on occasion fellow angels Josephine Skriver and Sara Sampaio, for special events.
"My mom, growing up, was always doing celebrity styling," the Californian-native explains. "She would do red carpet events, movies, TV shows, photo-shoots and I would always go as her little assistant on the job. I thought it was always so fun to be there, to see the sets and everything." She continues: "One day, we were pulling clothes and one of the ladies that worked at the showroom pulled [Robinson] aside and was like, 'Oh my gosh, you should go meet IMG. I have a friend who's an agent there.'"
Just 16 at the time, Tookes focused on finishing high school and then moved to New York, where she was catapulted to fame following her casting in a show for Calvin Klein, and where she has lived for the past 10 years. Now, having recently purchased a house in Los Angeles, she splits her time between the two coasts.
Even when apart, though, Robinson assembles all of Tookes's outfits for each and every one of her public engagements. "She styles me for every press event that I do, whether it's Victoria's Secret or any other red carpet event," she says.
The family dynamic, contrary to what some may think, actually facilitates a more seamless styling process, meaning Tookes can voice her opinions without offense. "It's really, really nice because I'm not afraid to say that I don't like something," she reflects. "Sometimes when I work with another stylist, I don't want to hurt their feelings if they have brought me options that I don't like."
Simultaneously, working together has strengthened the pair's relationship: "My mom and me obviously have an amazing relationship—we're like sisters—she knows my exact style; she knows what I'm going to like and what I don't like and also she has a very classic style."
How does this translate to Tookes's own sense of fashion? "I've always wanted to keep my style very classic—I never want to look back at my photos when I'm older and be like, 'Oh my gosh! What was I wearing?' so I like to have a style that's very timeless and I think that she really gets that." The model says, adding, "It's just so much fun that she can come to my press days with me and she's there. It's just really great to have her around and I have a lot of fun with her styling me."
"She's started styling some of the other Angels [too]," Tookes explains, "so that becomes a lot more fun and my friends get to know my mom really well. It's kind of like we're all best friends with my mom."
In the same breath, Tookes is quick to recognise the styling know-how she's inherited from having an expert as her mother. "My mom always told me to shop for your key basic pieces, like the good jean and a good T-shirt, and then I'll go all out on my bags and shoes." The model adds, "You can spruce up any less expensive outfit with a nice bag and it looks amazing, so she's taught me not to spend too much on the pants and the shirts… I think it's a good tip."
Citing Prada and Manolo Blahnik as two of her favourite designers—"Manolo Blahnik heels are some of the most comfortable heels I have"—Tookes admits she has a weakness when it comes to shoes, proving even Angels are just like us.
How many pairs has the runway regular accumulated so far? "Oh gosh, I have no idea. I need to count!"