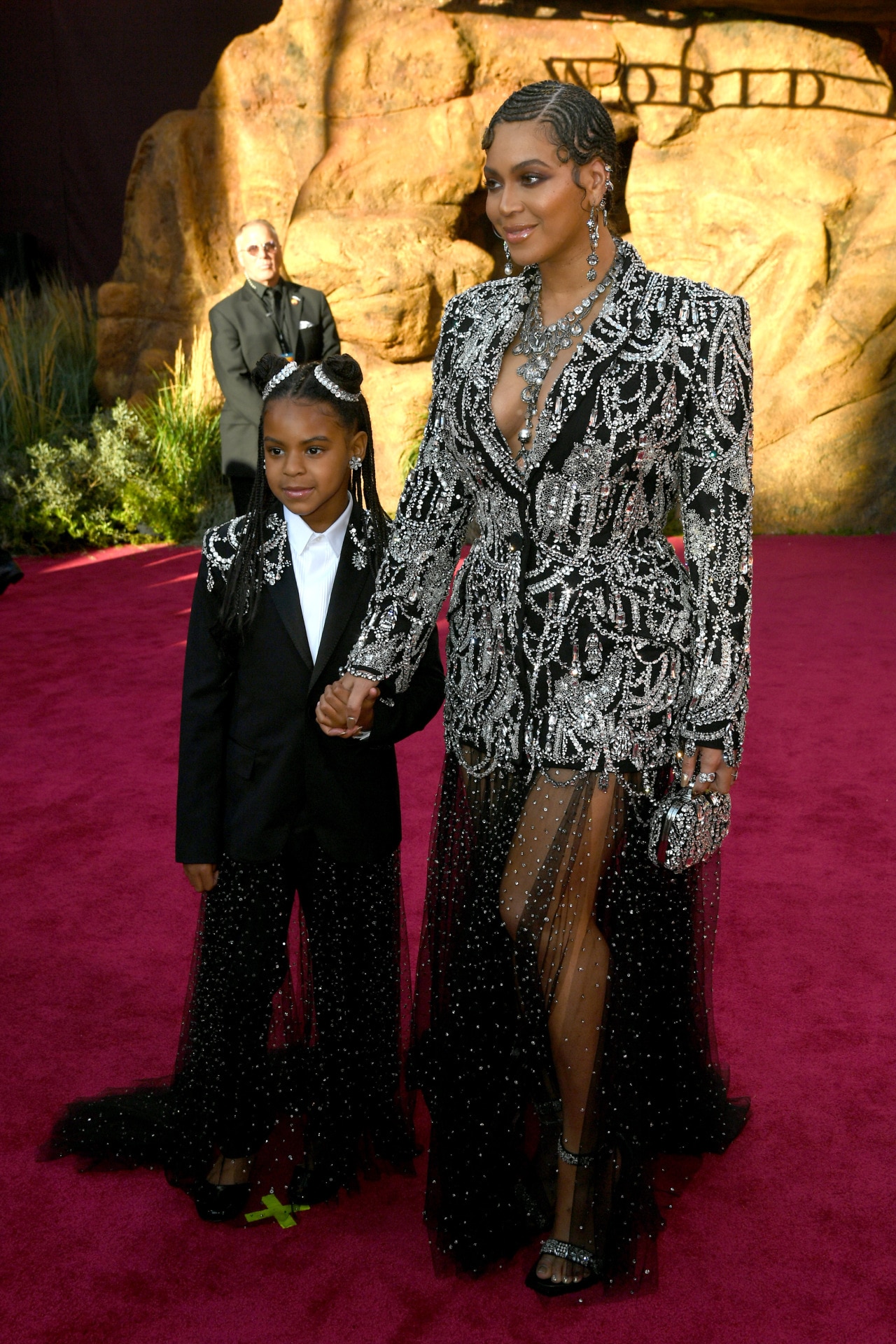 Blue Ivy makes her red carpet return.
The world premiere of The Lion King remake was held in LA on Tuesday, and saw Beyoncé take to the red carpet for the first time in almost three years, taking seven-year-old daughter, Blue Ivy Carter, as the cutest date ever.
The 37-year-old singer, who plays the voice of adult Nala in the Disney remake, stunned the crowd in a bespoke Alexander McQueen crystal embroidered tuxedo-dress with a dégradé crystal embroidered skirt, dramatic jewels and crystal pin heel sandals. Blue followed her mum's lead, dressed in a black pantsuit encrusted with diamonds, which complemented her mother's outfit perfectly and made for a twinning moment.
Although just seven, Blue Ivy has been in the spotlight before. Unsurprisingly, she is a natural performer just like her parents, evident when she sung her little heart out on Beyoncé's Coachella album, Homecoming: The Live Album, which turned into a Netflix film. The future superstar covered the song Lift Every Voice and Sing, often referred to as the 'black national anthem', when she was only six. And who could forget her first red carpet appearance alongside Bey back in 2016 at the VMAs?
Also at the Lion King, in support of the glittering mother-daughter duo, was Destiny's Child besties Kelly Rowland (who also brought along her five-year-old son, Titan) and Michelle Williams, as well as singing protégées Chloe and Halle Bailey. Along with Bey's co-stars Alfre Woodard, Seth Rogan, Billy Eichner, Donald Glover, Chiwetel Ejiofor and director Jon Favreau.
It's been almost three years since Beyoncé graced us with her beauty and fierceness on a red carpet, with the last time being at the very same MTV VMAs back in August of 2016. Since then, she has managed to sneak into events without walking the red carpet first. We may also get to see Bey again this weekend, when the cast attend the London Lion King premiere, which is tipped to be attended by Prince Harry and Meghan Markle too.
Not only will Bey feature as a character in the film, but she is set to release her newest single, Spirit, which is featured on the Lion King soundtrack. Lion King's official Instagram account has been exciting fans across the globe with a sunning portrait of Beyoncé and her character, Nala, to promote the new music.
With these very cute mother-daughter pics, we can only hope Blue Ivy will be walking the red carpet this weekend too!