"A timeless watch that will stand the test of time," says the model and new Tag Heuer friend of the brand.
Australian model Elyse Knowles has announced she will be joining the Swiss luxury watchmaking brand Tag Heuer. Knowles has been announced as an official "friend of the brand" and will promote Tag Heuer's Carrera Lady collection in Australia.
"I am thrilled to join the Tag Heuer family, an established global brand with a rich history and reputation for producing reliable timepieces that last the test of time," the model told Vogue of the exciting new partnership. "I consider myself to live an active lifestyle and believe Tag Heuer produces timepieces which perfectly fit my style and life."
For Knowles, joining the brand is double exciting as she also gets to endorse an accessory she truly stands by – her Carrera Lady watch, a forever favourite piece in the model's wardrobe. "The new Tag Heuer Carrera Lady features a new design that seamlessly combines performance and style," she shares. "With their feminine flair and understated sophistication, any of the new models will make the ideal accessory for the confident, modern woman."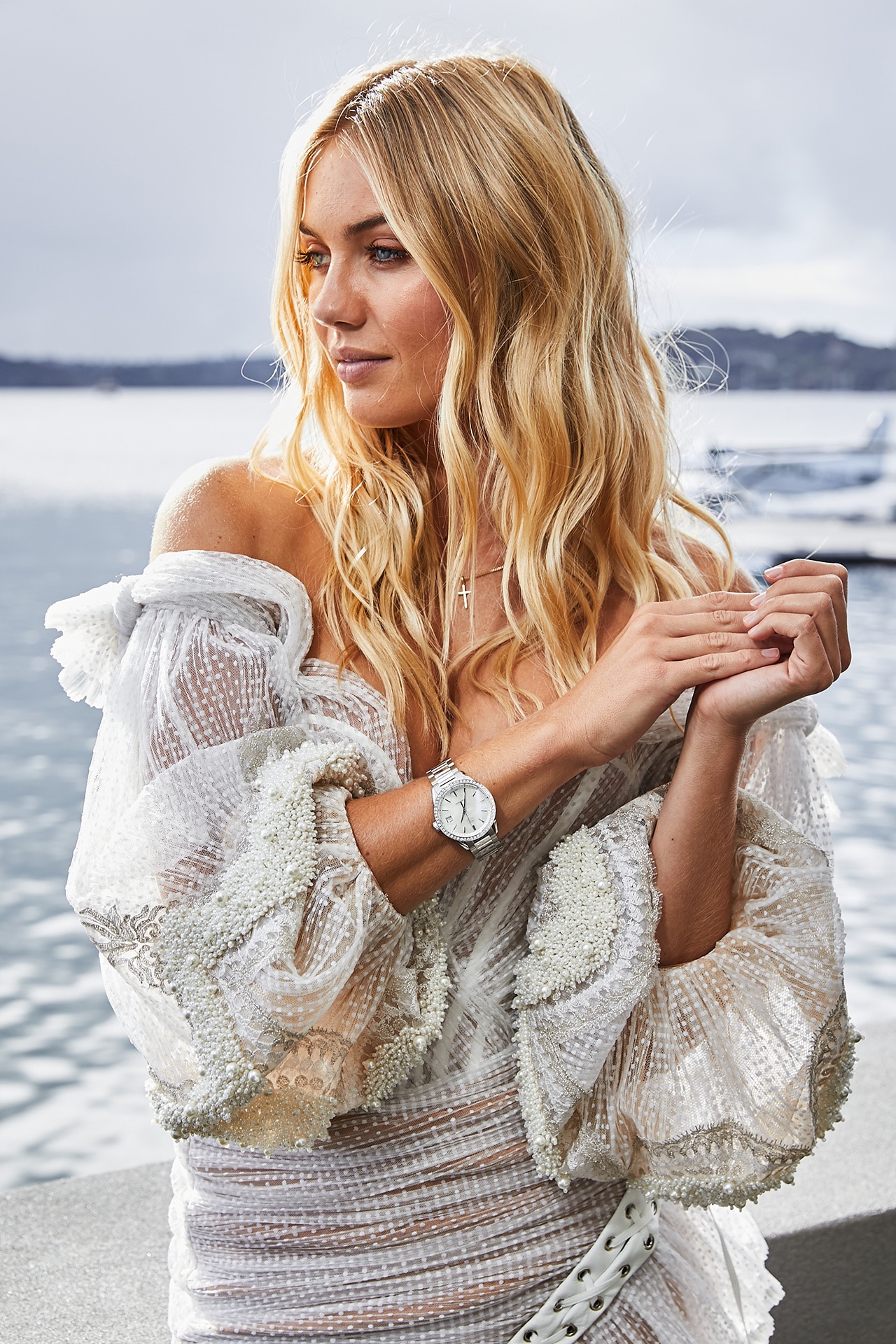 This collection of timepieces were inspired by the brand's DNA in motor racing and harks back to the original Carrera collection introduced in 1963. The Carrera Lady has been reimagined for the modern woman, which thoughtful elements that speak to a considered, feminine design.
"The new Tag Heuer Carrera Lady's collection is a modern timepiece which uniquely combines both performance and style," says Knowles. "The new collection was developed for women who are focused, driven and confident and who have a daring attitude. The Carrera collection allows women to wear a timepiece that has been created just for them. There have been no compromises made on state-of-the-art innovation, elegant design and of course, Tag Heuer's rich heritage."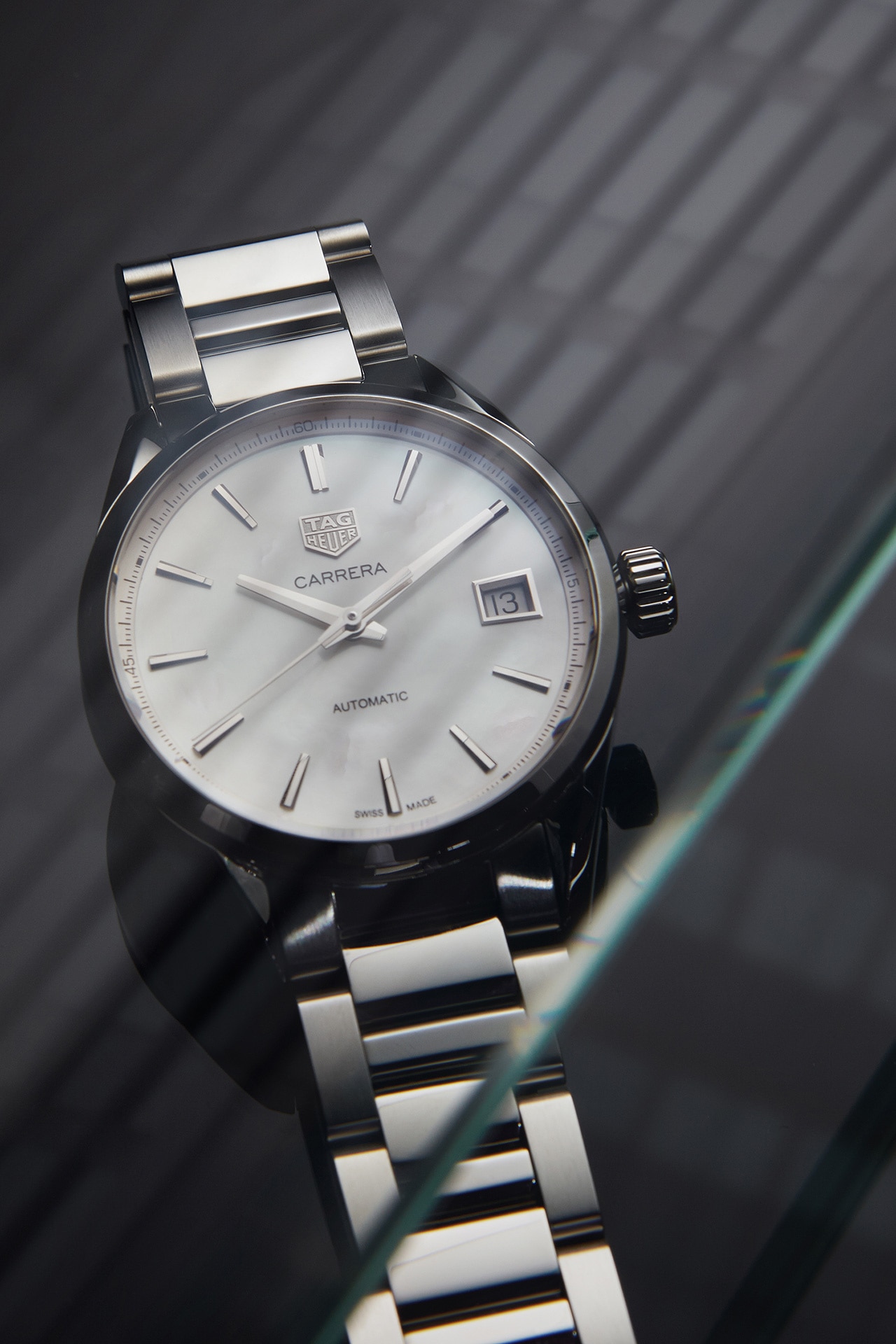 The Tag Heuer Carrera Calibre 5
For Knowles, who usually wears gold jewellery, she opts for a silver steel Carrera Lady timepiece so that it stands out. "I love the beautiful mother-of-pearl dial which complements the diamond bezel. It is a classic and elegant statement piece which can be worn for all occasions." Knowles says the timepiece is something she wears everyday, along with another favourite piece of jewellery. "A cross that my mum wore growing up. She's since given it to me and I'll always cherish it."
The Carrera Lady features a 36 mm design with curved edges, refineed indexes and hands, and a seconds scale printed on the dial, surrounded by either a smooth or diamond-set bezel. There are some exciting surprises for the wearer too – the date window at 3 o'clock boasts a trapezoidal shape, rather than the square shape of previous designs.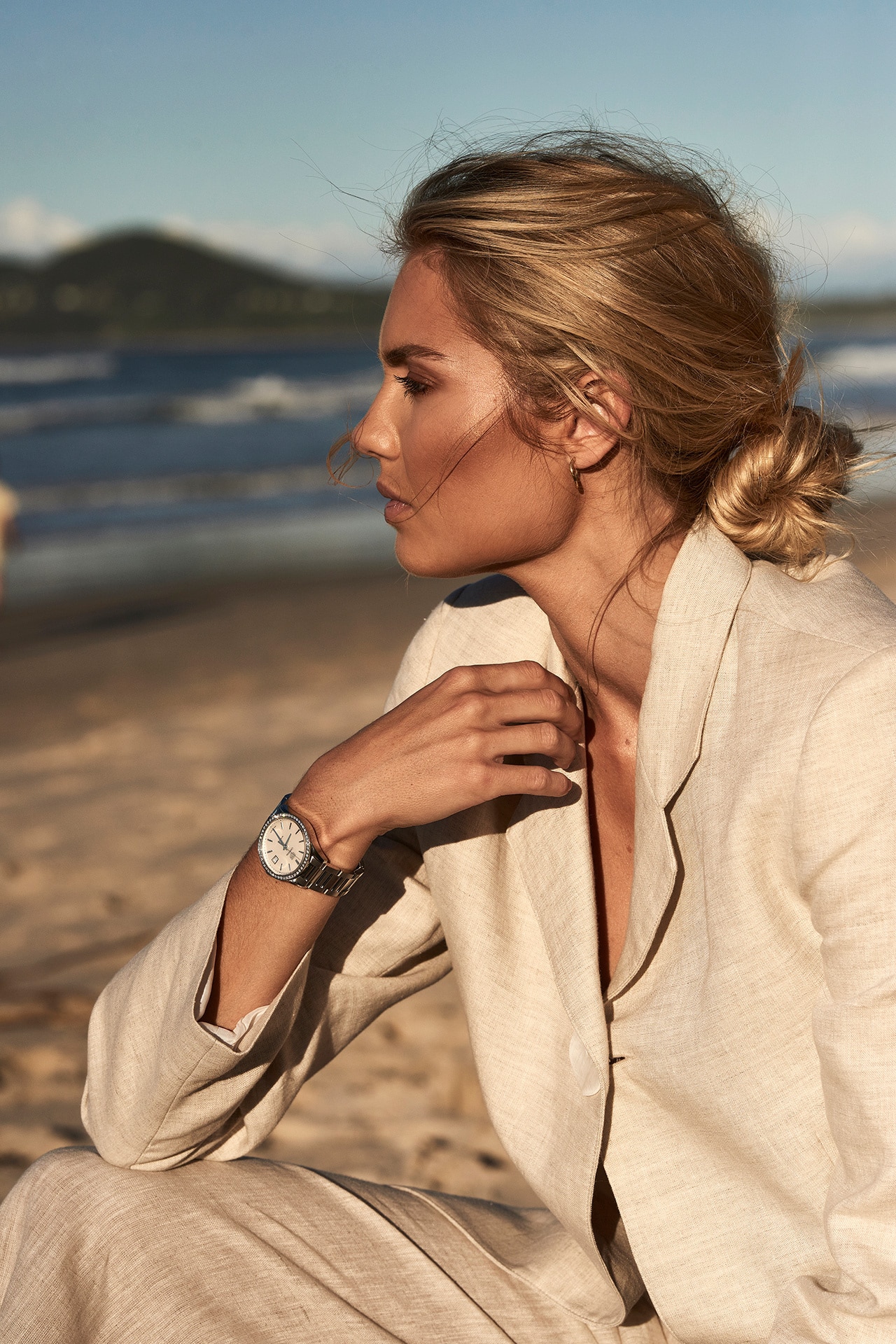 Knowles insists there is a piece to suit any style, with the dial available in her preferred white mother-of-pearl, as well as purple, blue, grey and black, and a range of watch straps, including stainless-steel, calfskin or alligator leather with a satin finish. "The best part of the collection is the variety of different styles and finishes available. Tag Heuer has introduced an elegant collection of statement pieces which can easily blend into an established wardrobe and suit any occasion," she says. "The bold design suits both the everyday lifestyle but will also add an element of sophistication, when dressing up for a special occasion."
Knowles insists every modern woman needs the perfect timepiece to complement their style. "A timeless watch which will stand the test of time for many years to come and can be passed onto the next generation. To me that speaks to lasting style."