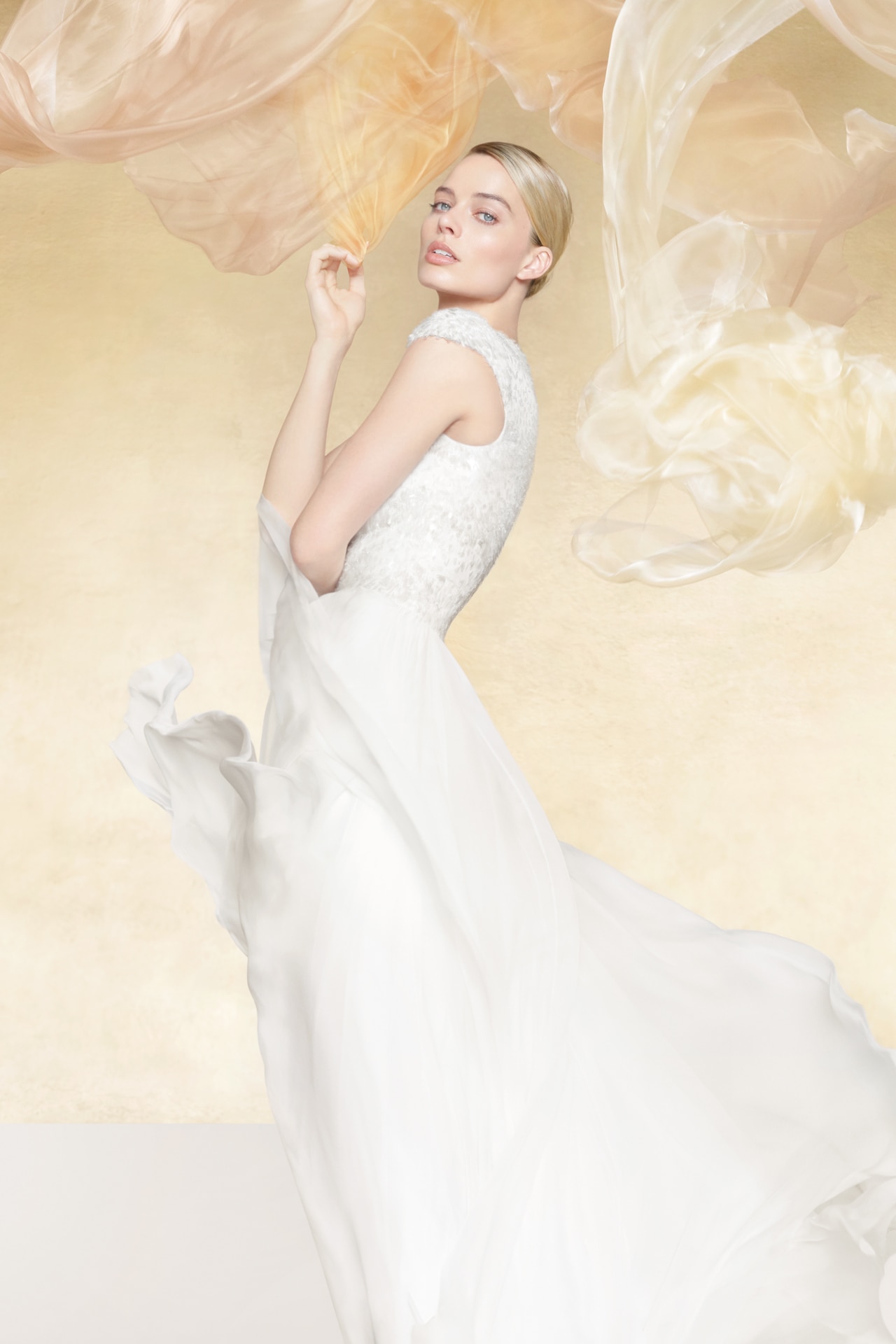 In the know.
In her first official role as Chanel's newly-minted fragrance ambassador, Vogue Australia's September cover star, Margot Robbie, has appeared in her first campaign for the French fashion house's new fragrance, Gabrielle Chanel Essence. Directed by renowned fashion photographer Nick Knight, the campaign's while and gold hues provide a visual complement to the fragrance's primary notes, which centre around four white flowers: tuberose, ylang-ylang, jasmine, and orange blossom. Carrying the torch of the Gabrielle Chanel fragrance legacy, this new release echoes the life and personality of the pioneering icon of the same name. As Chanel once famously said, "I decided who I wanted to be, and that is who I am" and it's a sentiment which rings true with the new fragrance and its accompanying campaign. The Gabrielle Chanel Essence fragrance will be available for purchase from September 1.
In other Chanel-related news, the fashion house has just announced that they are aligning with the objectives set out in the Fashion Pact and have decided to join its mission. The pact, launched during the recent G7 summit by French president and host of the weekend, Emmanuel Macron, presents a set of shared goals the fashion industry can work towards to reduce its collective environmental impact. To date, over 150 brands have taken up the challenge, including Chanel, who have already made significant commitment to address a number of the issues raised—including climate change, protection of the world's biodiversity and protection of the oceans. The brand has long sought to reduce their own environmental impact, and this will continue with their commitment to the pact.
Australian fashion e-tailer, The Undone, is set to hold private styling appointments for a limited time in Sydney this week. Headed by founder Sara Crampton, customers will sit down with her at the pop-up in Totem Road's Paddington store to curate their ideal wardrobe. With the brand's unique capsule wardrobe approach in mind, of course—customers will try on outfits and exclusively shop new arrivals to the site. Given that the pop-up styling boutique will only be open for four days, from September 5 to September 8, sessions will be by appointment only and available for $500, which is redeemable on product. Simply purchase an Undone gift voucher online for the same amount to use on the day, or if you choose not to shop anything during your appointment, the voucher will be valid for three years. To book your private styling appointment, email info@theundone.com.