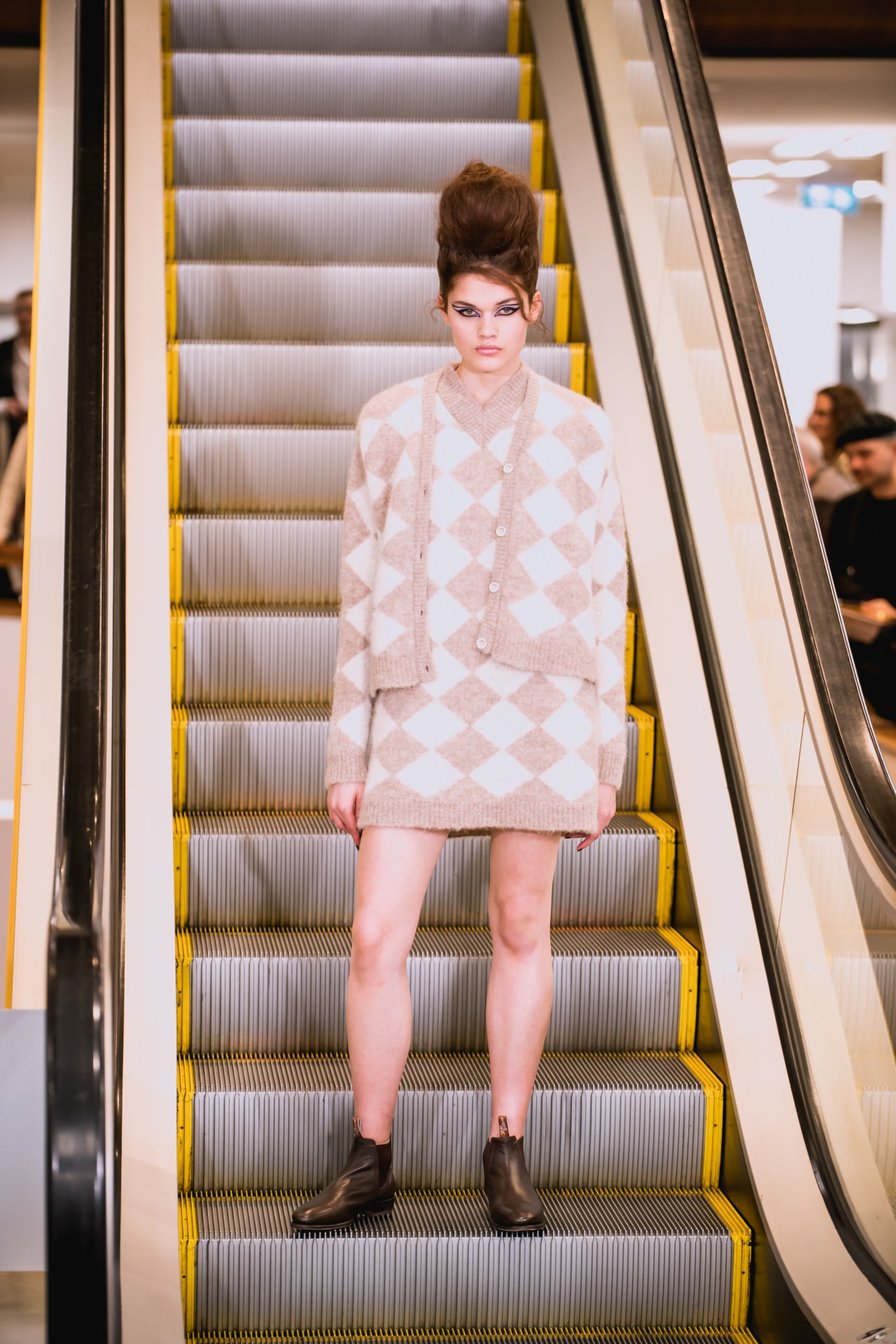 The brand, born in 1979, paid homage to its past with a celebration that ushered in the future.
What does one wear to the library? Elisabeth and Neville Findlay of Zambesi, who celebrate 40 years of the brand this year, toyed with this dilemma when they presented their collection on Friday night at New Zealand Fashion Week.
"We love doing shows, we always have," explains Elisabeth Findlay just hours before the show, held at Auckland's Public Library, exclusively to Vogue. "You learn every time you do a show and I don't think you ever feel like you've done it. You always think, 'Oh, next time we'll do this, oh next time we'll do that,'" she says.
Though her sentiment is understandable, and rings true at the time, when the lights lower and the music peters out for the finale, with some 30 models escalating to the top floor of the venue, it's hard to imagine that this particular collection could have been any more well-rounded.
Led by favourite faces of the week Ch'lita and Rob Tennent, a crop of cool kids descended on the library's ground floor in tailored blazers, puffer shawls, velvet bomber jackets, floral printed trousers and punk-ified argyle sweater vests that riffed off more classical codes of style and made them cool again. Many embellished with a graphic Zambesi logo, that wrapped cleverly around pants or scarves, reminded guests of the brand's multi-decade history. With books in hand and attitude in spades, each one begged the question of why, in matters of style, we played it safe in high school, and how we might be able to turn the dial up on our clothing's personality today.
"We've always promoted this idea of individuality and dress[ing] for yourself," says Findlay. "People are feeling more confident about their individuality and dressing for their size, age, height… for themselves. Because I think that's what gives you confidence, and you get dressed and you feel good all day and you don't have to worry about it."
This effortlessness translated in the designers' thoughtful and utilitarian approach to each garment. Trousers and coats were designed with pockets, printed pieces were lined inside to allow for two-in-one styling versatility, and a predominant colour palette of black, grey and a sheer, metallic-hued white (paired with some Zambesi logo here, some texture there) honed in on a sensible mindset when getting dressed. And, each look was paired with R.M. Williams boots, emphasising that these are clothes that are made to be used and worn and loved.
At the same time, by embedding the brand's logo on the backs of jackets, on pieces of calico attached to garments and on socks, the designers encouraged audiences to reflect on Zambesi's impact on the industry in the past and recognise its relevance in the future, especially for the next generation (the brand will open a retrospective show to the public this weekend). "We are always inspired by the archive," Findlay says, adding, "I like that sometimes you return to the past, you know, [in order to] move forward."
The result is a series of clothes that defied any particular trends or time periods – they may have worked in the past, but will work equally well now too – and that offer a neat parallel to Findlay's love of fashion that, even after four decades, continues to transcend time. "I love making clothes," she says, reflecting on the birth of the brand, which started organically with the encouragement of her husband, when Findlay began designing pieces she thought were missing from collections she was buying or selling for others.
"To be in this industry, you need to be committed and passionate about what you're doing," she says. "And you need to kind of always have that feeling that you're not finished, and that's how I feel, I feel like I'm not finished."