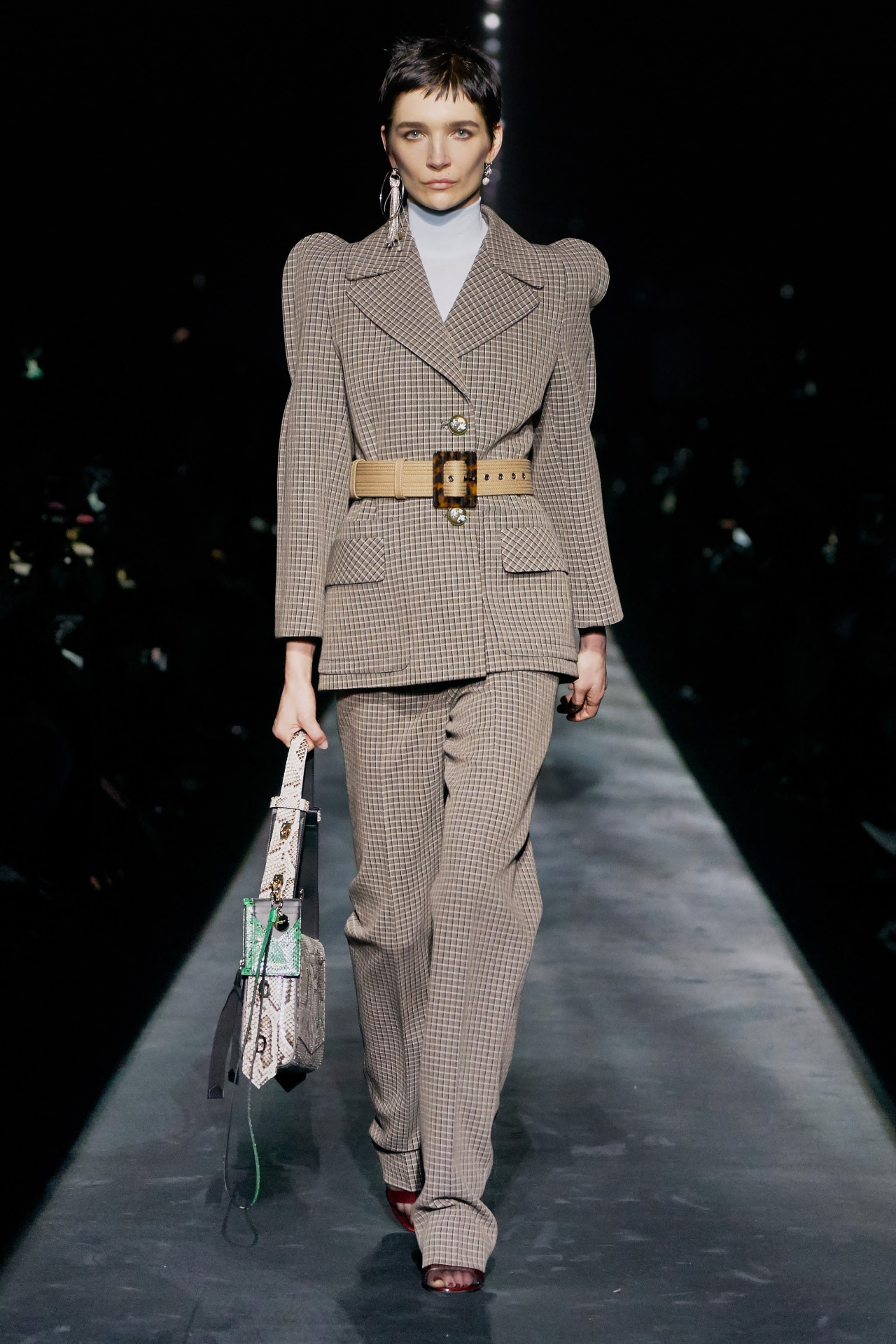 The word on repeat during the autumn/winter '19/'20 month-long extravaganza of shows was bourgeois, which when translated means middle-class, and all kinds of capitalism. Funny that. As we find ourselves in an increasingly right-wing extremism political climate, designers are riffing on these capitalist codes and setting us on a somewhat subversive (fashion is always seditious even when it gets serious) slide into something grown-up.
Of course, some designers are also responding to the demand and thirst for more than the high-wire act that has been fast fashion, and working on delivering something different, lasting and intelligent. Oui oui, we are going to enjoy using this qualitative language of fashion in a new way. Bourgeois? Oh, you betcha. It is the quintessentially French stuff that houses with iconic foundations are built on: Chanel, Hermès, Celine, Balenciaga, Saint Laurent, Christian Dior, et cetera.
Collectively, they have all created something that is in part inspired by the jolie Parisienne and her Avenue Montaigne and Rue Saint-Honoré haunts, those sacred streets where the discerning exude good breeding and good fortune and have been neglected for some time. This new iteration of a stealth-wealth wardrobe is built on solid, classic pieces that at their heart can be kept forever, as they are just so damn good they outlast trends as well as wear. Smart. Posh. Timely, too. As the climate crisis has accelerated the urgent conversation around sustainability, sourcing, upcycling and recycling, autumn/winter '19/'20 is providing some answers to our thoughts about investment.
Balenciaga's leather take on a paper or plastic bag was reusable, clever and thoughtful. Balenciaga's Demna Gvasalia called autumn/winter '19/'20 his "ode to the customer, to people who actually go shopping for fashion. Because, of course, this is the reason I do it!" And so, he has given us a minimal (for him) wardrobe with the original, signature Balenciaga structure explored through expert tailoring, exquisite wool suits, essentially simple overcoats with extended shoulders, and square-toed ankle boots. No sneakers. Gvasalia's mantra of 'youth-led street' that he has brought to the house is contained to only a single hot-pink silk dress printed in graffitied black pen.
Above: Saint Laurent ready-to-wear autumn/winter '19/'20.