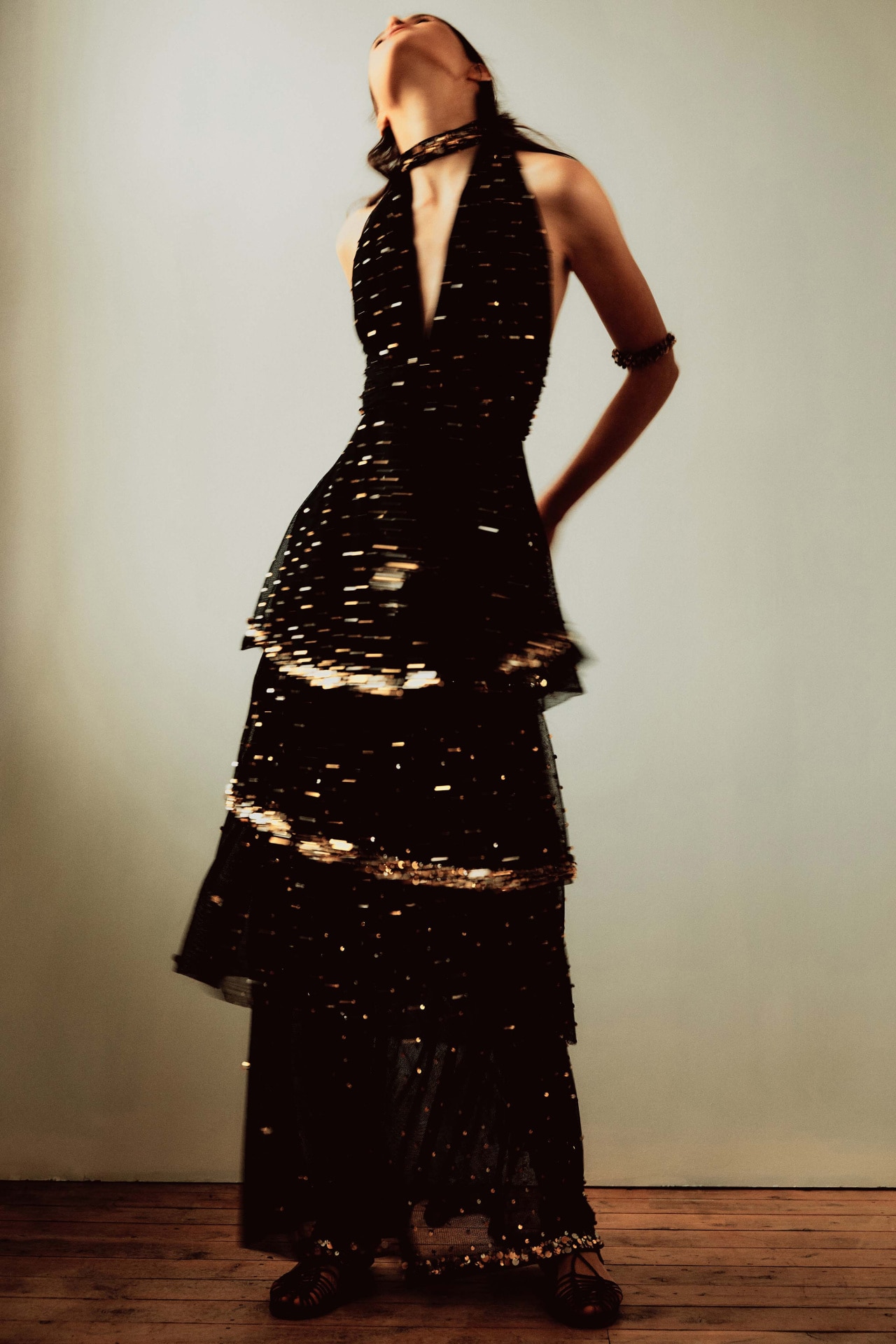 Everything we learned at the Raw Assembly sustainable fabric fair in Melbourne.
Sequins are a problem. Marion Hume, a former Vogue Australia editor and passionate swimmer, told me recently that she keeps finding lost ones in her local London pool. They're falling off bikinis, apparently. Come summer in Australia, they could well be littering an ocean near you. And think about all those party season dresses – one loose thread and the potential for shedding tiny, shiny plastic scraps is real. So the race is on to find more sustainable alternatives.
In Melbourne at Raw Assembly, Australia's first sustainable fabric sourcing event for the fashion industry, there were recycled options. These came from The Sustainable Sequins Company in the UK, which is also developing the first biodegradable bioplastic sequins. Founder Rachel Clowes is working with Bangor University's BioComposites Centre on a "commercially viable biodegradable non-oil based" version. They will be "machine washable and completely biodegradable at end of life" and are set to launch early 2020.
"The Sustainable Sequins Company is fabulous," enthuses Kit Willow. "KitX was one of the first brands to use them, along with Gucci. But also, look at these – they're made from algae. Look at the colours! So modern."
At Raw Assembly, Willow has found a stand showcasing 100 per cent biodegradable embellishments created by textile designer Carolyn Raff, who studied in Germany and Denmark. These are made from agar agar, an algae-based gelatin substitute. The colours, textures and depth are mysterious, rather than shiny. "Mind blown," says Willow.
During a panel discussion with Lenzing's VP of Global Branding, Harold Weghorst, Willow explained her obsession with materials. "Materials account for 70 per cent of the environmental impact of a garment," she said. "When I started working on KitX in 2014, I was determined to do things differently. I did my research, spoke to a lot of people. I went to England where I met with [Fashion Revolution's] Orsola de Castro and Jocelyn Whipple, and Jochen Zeitz [then at Kering where he chaired the board's sustainable development committee]. I wanted to drill down into what makes one fabric good over another before launching KitX."
Today she uses organic cotton and organic silk, hemp and Lenzing viscose. Traceability and environmental responsibility inform her conscious sourcing strategy. "I only want to work with materials that don't damage or pollute," she told the audience. "That includes the health and wellbeing of the farmers and workers who handle [the fibres], and also looking at circularity, so the fabric's end of life. I don't want to make clothes from fibres that have been drenched in toxic chemicals or negatively affected biodiversity. It's almost planet over profit with every decision that I make."
Raw Assembly's founder Thea Speechley opened the event with a quote from Michael Braungart (co-author, with William McDonough, of the influential book on circularity, Cradle to Cradle): "The farmer should try to pay the earth for what he took from it." Speechley suggested that concept of the Law of Return should underpin the work of sustainable sourcing. "[The fashion industry] needs to act now as we face immense challenges," she said.
While new textile innovations reduce water and energy of traditional materials, and front-runners are looking to switch in more sustainable materials, the bulk of the industry is still locked onto virgin polyester – which accounts for about two thirds of the fibre basket. Conventionally grown cotton comes next; organic cotton still accounts for less than 2 per cent of the whole global crop. We might get excited about those eco-sequins but they and their ilk form a tiny fraction of the fashion whole.
A new report from McKinsey backs this up. Fashion's New Must Have: Sustainable Sourcing at Scale, acknowledges: "A sceptic might ask: does this spotlight on sustainability represent a move towards long-term transformation of the industry or is it simply the fashion of the season?" But the report describes an industry-wide move towards positive change.
Researchers surveyed 64 sourcing executives from big companies, responsible for a total sourcing budget of over US $100 billion, and describes "a race to the top" not bottom. "The clear majority of survey respondents expect the industry to transition to a much more sustainable model by 2025. They foresee wider use of sustainable materials, an improved ecological footprint, increased transparency, and strengthened supplier relationships and purchasing practices." Sustainable materials was the number one ranked concern.
Harold Weghorst said a driving factor was increasing consumer awareness around big environmental issues such as plastic microfibres polluting our oceans, and the current focus on the fashion industry's carbon footprint.
Lenzing was one of the founding signatories of the UN Fashion Industry Charter for Climate Action this year, but more fibre producers need to set science-based targets to reduce emissions.
"The key takeaway from Raw Assembly has been building bridges of understanding," says Speechley. "Having wool growers and research academics interacting alongside big brands and independent designers, not only informs their opinions, but starts to shape a culture in the industry of greater understanding and the development of informed opinions. I really think this will not only affect their sourcing decisions, but have a wider impact on how they are looking at sustainability across the rest of their business."
Inevitably, though, it's the start-ups with surprising ingredients that grab the most attention. Earlier this year, the Italian innovators behind Orange Fibre, Adriana Santanocito and Enrica Arena, set out to crowdfund €250,000 (AU $400,000) for their silk alternative made from orange peel waste orange from the juicing industry. They raised €650,000. At Raw Assembly, the most buzz was around Desserto, a vegan leather alternative made from the cactus plant. "They literally launched it a couple of weeks ago," says Speechley, "so it's pretty cool to have it here in Australia first." Kit Willow was beside herself.