After appearing on A Current Affair and being featured inVogue the label took off, being worn by celebrities and influencers, but now the political message and feeling of hope is dissipating. "It does seem different now," Jacobs said. "A lot of people seem to be jumping on the bandwagon."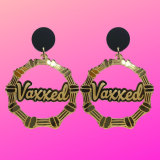 Now there's something vainglorious about these items, which fortunately stop short of proclaiming Pfizer, AstraZeneca and Moderna. Rather than asking people to act and "Get Vaccinated", similar to "Wear Condoms" or "Stop Nukes," they make the smugness of having gotten in early, to perform a sensible public service, a style choice.
Equally unsettling is that like Make America Great Again and a Southern Cross tattoo, the "Vaxxed" logo can be ambiguous. In the US MAGA became shorthand for white privilege, so are shoppers tapping into vaccination privilege that absolves members of the style tribe from physical distancing, wearing masks in public and internally singing Happy Birthday as they wash their hands after trips to the toilet?
Taking pride in being vaccinated and sharing it on social media is one thing, but buying a $1190 Valentino hoodie to wear to your next picnic is an expensive way of preaching to the converted and sipping warm rosé without a mask in sight.
Despite the varying charitable elements, at this stage of a very long game, there's an element of cashing in on an event that has taken and dramatically changed lives. An event that will hopefully pass, making these items more fashion landfill. The last time masks were fashionable was with the Spanish flu outbreak in 1919, and I'm yet to see any influencers rocking the vintage versions.
Make the most of your health, relationships, fitness and nutrition with our Live Well newsletter. Get it in your inbox every Monday.