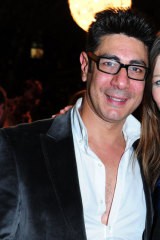 Farage has boutiques in Martin Place and The Strand and specialises in custom tailoring, so clients were unable to get their suits fitted during the lockdown. Mr Farage acknowledges the CBD is yet to return to normal, but says his customers were quick to return to the in-store experience.
"Everyone is excited to get really dressed up again, I am seeing more statement dressing from the gents and people are looking forward to wearing sharp suits to weddings and black tie events," he says.
The last two years of on-and-off stay-at-home orders has been the era of comfort clothing, but now that lockdowns are (hopefully) a thing of the past, people are getting ready to party.
Natalie Khoe and Shadi Kord, founders of online label Meskki, say consumers are now buying clothes they want to be seen wearing.
"Since 'freedom day', we have seen a decrease in sales in our 'athleisure' category of about 30 per cent on the week prior," Ms Khoe says. Meanwhile, sales in their 'party and formal' category rose about 25 per cent.
"I think everyone's just excited to get out in the house and wear something other than leggings," says Ms Kord.
Last week the pair marked their biggest week of sales after launching their latest collection, Aurora, named after the aurora borealis or northern lights. The collection comprises alluring colour and diamanté embellishments.
Ms Khoe says about 50 per cent of the brand's sales come from NSW and "post-lockdown, our NSW revenue daily average has increased by about 37 per cent".
Mr Farage hopes the activewear fad of the pandemic years is consigned to the dustbin of history.
"I think [it] will be only sighted at the gym or on the Bondi to Bronte coastal walk," he says. "Well that's my hope."