"Entering competitions all started from my love of racing," Macikova, 45, said. "Since then, I've won in Launceston, Wagga Wagga, Sydney and Brisbane but this is the big one."
The majority of finalists from other states wore custom-made dresses they had designed but Macikova has noticed a slow shift in racewear towards looks inspired by the international runways.
"What is beginning to become obvious is that an outfit can no longer just be suited to the races. You have to be able to wear it again. I'm looking forward to wearing this out to lunch in Sydney to celebrate."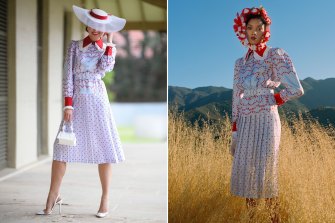 The dress, from Rodarte's spring 2021 collection, would normally retail for four figures, but Macikova grounded her look with cheap plastic shoes from the back of her wardrobe and a sheer-brimmed hat from The Fillies Collection. "It was a struggle to pull everything together during lockdown, but we got there."
In the lead up to the announcement of the winner, Macikova was immersed in racewear chat groups, worried that her long sleeves would upset traditionalists.
Loading
"It's unconventional, but I wasn't breaking any rules. The runway is important as an influence, but you will still never see me wear winter millinery in spring or open-toe shoes in winter."
Both Macikova and Ntuba have won trips to next year's Melbourne Cup and hope that the competition will return to its Fashions on The Field origins.
"It's a real community," Macikova said. "Some people dismiss racewear and fashion as superficial, but it transforms people and changes their personality. It makes them stand tall."
"I have met so many amazing people," Ntuba said. "I look forward to being inspired again. It's a great opportunity to not dress like an accountant."
Make the most of your health, relationships, fitness and nutrition with our Live Well newsletter. Get it in your inbox every Monday.