"Is the crown too much," designer Jordan Gogos asks. For a trip to the supermarket, perhaps, but when the Powerhouse Museum has tapped you for its first runway show since opening 142 years ago, it's positively understated.
This time last year Gogos had only made two painted shirts and a jumper for fun but based on the June debut of his label Iordanes Spyridon Gogos at Afterpay Australian Fashion Week, the Powerhouse Museum has agreed to collaborate with the 27-year-old multidisciplinary artist on a runway show to be held at their Ultimo workshop for next year's event in May.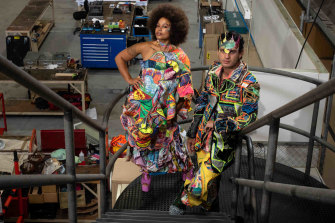 It's a leap of artistic faith from the Powerhouse. "We didn't sell one thing from the first show," Gogos said. The Powerhouse chequebook came to the rescue, acquiring some of the wearable art constructed from dead stock and offcuts, which were inspiring enough for the museum's chief executive Lisa Havilah to throw open the workshop doors.
"He's such a talent. It's so incredible," Havilah said. "He is going to be something. He already is something."
The unconventional collaboration is one of the Powerhouse's first steps to involve the creative community in the $500 million redevelopment of its once endangered Ultimo headquarters into a fashion and design precinct, announced in June. The updated facilities are intended to rival institutions such as the National Gallery of Victoria, currently hosting an exhibition dedicated to the twentieth century's most famous designer Chanel, but Havilah is looking ahead.
"We want to renew this precinct in partnership with the industry. We see the Powerhouse as having a responsibility to support ambitious emerging designers and want to play that role into the future."
Gogos works collaboratively with friends, operating more like an antipodean Andy Warhol at The Factory than a designer dictating with sketches and sees his "next big thing" anointment as representing a shift in the fashion industry.
"In Australia, there are so many leaps forward that we can take, and I want to create something different," Gogos said. "Creativity has always been here in Australia but the frameworks around creativity need to be challenged and the way we romanticise how we work with people."