Joining the revival of padded shoulders, mini-skirts and catsuits as further evidence that trends come in cycles is today's program launch of the Melbourne Fashion Festival. Nearly two years ago the corporate woes of Virgin Australia left the public-focused event without a naming sponsor while COVID-19 outbreaks had it dodging closure, but now the series of runway shows, seminars and exhibitions returns in March, bigger than bralettes and bike shorts.
"We managed to keep going throughout COVID-19, although we did close early in 2020 and there were restrictions, but we used our learnings from this challenging time to create a stronger mission statement and fresh approach," said MFF chief executive Graeme Lewsey.
The 2022 mission is "to unite Australia through fashion" which has already attracted online payment company PayPal as the new naming sponsor, along with the inevitable questions of whether the Melbourne event is straying across the border into the Sydney stomping ground of Australian Fashion Week, sponsored by Afterpay.
"Our designers don't just sit in Melbourne," Lewsey said. "Digital runways and shopping have expanded their audience nationally and globally. There's no doubt that we are keen to continue to share what Melbourne is famous for and fashion is part of that, along with sport and food, but we are turning up the volume by embracing, considering and uniting Australia. This is being done through programs considering everyone in our community. That's how we unite."
For Lewsey, entering his eleventh year as creative director, greater unity means greater diversity. The festival has challenged notions of ableism, since hosting bilateral amputee Aimee Mullins in 2012, and size with ambassadors Ashley Graham (2019) and Celeste Barber (2020). Now it's increasing its commitment to Indigenous fashion, which stretches back to the showcase of the Cairns Indigenous Art Fair in 2016 and gender diversity, which was last highlighted by transgender model Andreja Pejic on the runway in 2015.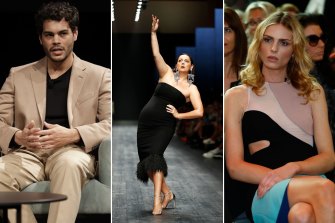 Model and Whadjuk Noongar man Nathan McGuire will represent a First Nations Fashion Industry Pathways Program, and Vogue will sponsor a First Nations runway show. "It is about making sure that all groups are in key roles throughout our industry, around the country. Everyone is a part of the process, not just the end result that you see on the runway."
Gender diversity will be front, centre and potentially sideways at the Collingwood Yards, which is the new home of the festival's upgraded Independent Program. Along with exhibitions and talks, the program includes a runway show featuring artist Jackie Wu's non-binary label Wackie Ju.
"As a queer person of colour I have struggled to see my identity represented in the fashion community," said Wu, who graduated from RMIT's fashion program two years ago. "There's definitely a lot of emerging queer fashion designers that have been coming up in recent years. It's flourishing internationally, look at the success of labels like Telfar, but in Australia it needs the support of a fashion authority such as this festival."