The collaboration is the latest quirky marketing initiative from VB, who splashed their logo across Budgy Smugglers in 2020 and a fragrance through Chemist Warehouse the same year, with 25,000 bottles selling in 72 hours.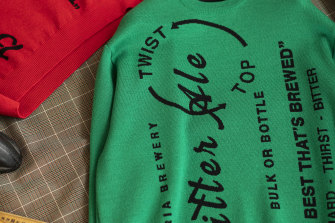 "This is a surprising new space for us because we never expected to be entering high-end fashion, but we are all about showing up in unexpected places," says Hayden Turner, head of classic brands for VB. "It felt like a great partnership to support local guys who are hard workers. Their vision of bridging the gap between work style and knocking off really appealed to us."
Despite riding on the Strateas Carlucci coat tails towards a luxury image, Turner is adamant that the brand's traditional demographic is still propping up the bar.
"We still have the very traditional drinker, the person that immediately comes to mind when you think of VB, but there is growing appeal with affluent, metro twenty somethings who we can engage with in ways beyond beer."
The crossover is stitched up and seamless at the same time, which raises concerns from the Alcohol and Drug Foundation.
"Fashion is integral to our ideas of identity," says Laura Bajurny the ADF's knowledge manager in policy and advocacy. "Including alcohol as a core component of who we are, and making that seem normal is a problem."
Loading
"We have studies in Australia that show young people, under the age of 18, who own alcohol-branded merchandise are more likely to engage in underage drinking."
The average Strateas Carlucci customer sits above the drinking age, with many having followed their successes over 10 years, including competing for the International Woolmark Prize in 2015 and appearing on the Paris ready-to-wear calendar for menswear.
While working in Paris may have once been the dream, being based in Australia and becoming an integral part of the local design community is worth celebrating with some beers.
"I've been drinking a bit of it lately," Carlucci says of VB beer. "Looking back on those pinch me moments has been great, but we are now ready for the next stage to evolve even further. We can do that here."
Make the most of your health, relationships, fitness and nutrition with our Live Well newsletter. Get it in your inbox every Monday.